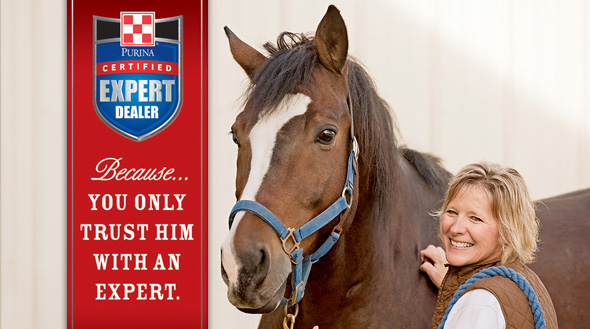 Being a Purina Certified Expert Dealer means that we offer a complete line of quality Purina feed products and have knowledgeable associates who care first about our customers, and their animals. Training is a key element for our Certified Expert staff and you can depend on us for Certified Expert advice!
Expert Articles & Advice
July 1, 2015
While some worms and germs are beneficial to horses for proper digestive health and an overall healthy immune system, and many others are harmless, there are some pests and parasites that can cause serious health problems even leading to disabilities and death.
June 15, 2015
A sudden thunderstorm can be terrifying for any pet, and cats and dogs can become very stressed during storms. There are easy ways to help your pet feel more comfortable, however, and keep them from getting too excited or anxious when storms pass by.
Watch Our Video
Sustained® Nutrition is 12-month cow care program using Intake Modifying Technology® Feeding System.
Interested in learning how you can increase your net profit, raise healthier cattle and maximize your forage use for improved conception rates and heavier weaning weights? Ask about Intake Modifying Technology and Purina cattle products today! Please contact our Farm Production Consultant Lauren Stockwell at 703-395-9550 for Free Body Condition Scoring, Hay testing and Feeding Program recommendations as well as Feeding Trials to measure performance for qualified candidates.