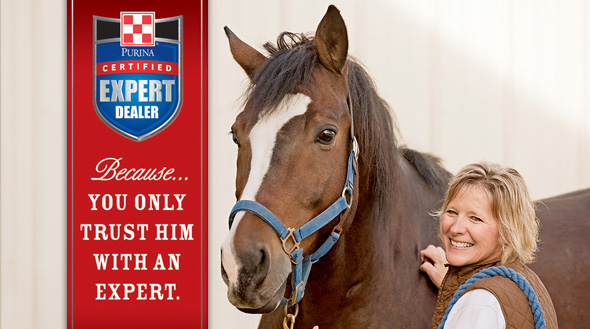 Being a Purina Certified Expert Dealer means that we offer a complete line of quality Purina feed products and have knowledgeable associates who care first about our customers, and their animals. Training is a key element for our Certified Expert staff and you can depend on us for Certified Expert advice!
Bulletin Board
Seed Potatoes, Garden Seeds, Plants and Flowers are ready to go!!! Come on by to get yours today!!!
Seeds are in!!! Stop in for Livingston Seeds and get started on planning your garden!!
5/2- Kentucky Derby hat photo contest! 5/16- Preakness Day photo contest! Click for more info on rules & specials:
http://bit.ly/1QF2Q82
Expert Articles & Advice
May 1, 2015
Whether you want to wash your livestock to make them look their best for a show, be more comfortable, or to avoid contamination that could lead to health problems, the steps for washing your livestock and horses are the same, and easier than you may think.
April 1, 2015
Getting started as a backyard birder is easy, inexpensive and enjoyable. Birders need to meet birds' needs in their backyard as well as their own birding needs to enjoy every feathered friend that flits through their yard.
Watch Our Video
Sustained® Nutrition is 12-month cow care program using Intake Modifying Technology® Feeding System.
Interested in learning how you can increase your net profit, raise healthier cattle and maximize your forage use for improved conception rates and heavier weaning weights? Ask about Intake Modifying Technology and Purina cattle products today! Please contact our Farm Production Consultant Lauren Stockwell at 703-395-9550 for Free Body Condition Scoring, Hay testing and Feeding Program recommendations as well as Feeding Trials to measure performance for qualified candidates.