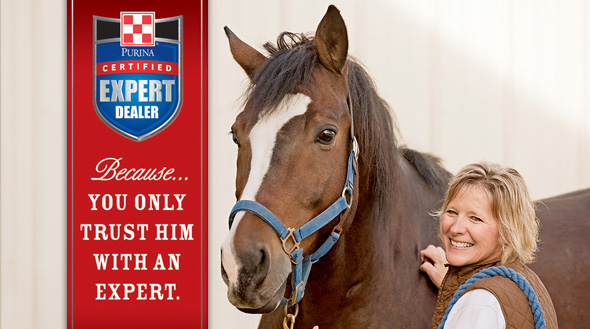 Being a Purina Certified Expert Dealer means that we offer a complete line of quality Purina feed products and have knowledgeable associates who care first about our customers, and their animals. Training is a key element for our Certified Expert staff and you can depend on us for Certified Expert advice!
Bulletin Board
We were voted the 2015 Frederick Country Agri-business of the Year! Check out our award:
http://bit.ly/1OUVpJo
Checkerboard Days Fall Festival is scheduled for Saturday, October 31. More details to follow.
Expert Articles & Advice
October 1, 2015
Horses have a wide range of breeds, sizes, personalities and temperaments, and there is no single type of fence that is best for every type of horse.
September 15, 2015
Deer may be elegant, attractive wildlife, but they can be some of the worst backyard and garden pests as they damage trees, eat gardens and flowerbeds, trample foliage and leave feces throughout the yard. While fences can be effective at keeping deer away, harsh barriers can also be eyesores.
Watch Our Video
Sustained® Nutrition is 12-month cow care program using Intake Modifying Technology® Feeding System.
Interested in learning how you can increase your net profit, raise healthier cattle and maximize your forage use for improved conception rates and heavier weaning weights? Ask about Intake Modifying Technology and Purina cattle products today! Please contact our Farm Production Consultant Lauren Stockwell at 703-395-9550 for Free Body Condition Scoring, Hay testing and Feeding Program recommendations as well as Feeding Trials to measure performance for qualified candidates.